Some Stick Related Links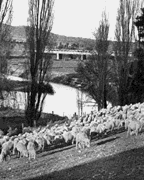 For those interested in Border Collies
here is a great site
Here are some stick relates sites:
Midland Counties Stickmakers
Twinks Sticks
Joe Musialowski's page
American Stickmakers Association Home Page
House of Canes and Walking Sticks
AL Enterprises Irland
The World of the Walking Stick
British Heritage Gifts and Accents
Scottish Sticks and Gavels
Books on StickDressing

Here are some sources for materials and parts.
"MaseCraft" on the East Coast that sells several types of horn, mainly to knife makers. Their Buffalo tips are often suitable for crooks, but practice is needed to bend them, as they are a bit more brittle than rams horn. None the less they are beautiful.
Masecraft Supply Co
254 Amity St.
(P.O. Box 423)
Meriden Ct. 06450

(203) 238-3049 1-800-682-5489

Some tips, and threaded joints
are available here.
Both for canes, and pool cue's

Rockler Company
http://www.rockler.com/


thesheph@theshepherdscrook.net